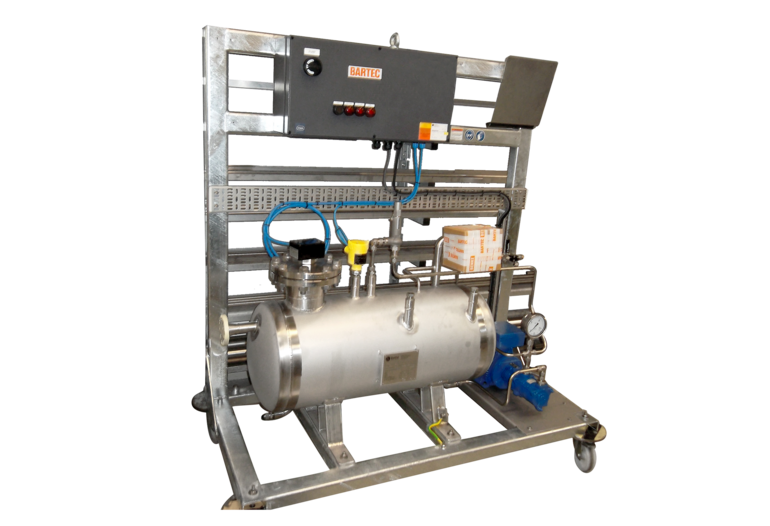 Sample Recovery System
For the return of proper samples to the process lines
-
Benefits
Skid mounting frame
Flame arrester, Protego 1"
500 Litre, stainless steel tank
Pump, 400 VAC, 50 Hz
Level transmitter (HH and LL alarms to ESD and on and off signal to DCS)
Flange, stainless steel (1.4571)
Check valve
Trace heated
Ball valves
Get a Quote
Description
We offer a sample recovery system to collect used sample from on-line process analyzers and continuously returns this sample back to the process lines.
Our system is always designed to process return requirements and can handle product characteristics such as pour point, viscosity, density and hazardous area classification. The size and shape of vessel can be customized to local conditions and needs and is used in applications where the process fluid can't be flared (gas) or drained (liquid) or is too valuable to waste.
Sample Recovery Systems are necessary for applications where it is undesirable to discharge chemicals or hydrocarbons into sewage drains. Due to technical reasons, often the spent sample cannot be returned to the process line from which it was taken. Consequently, a sample collection system has to be installed which collects the sample because of high pressure. The sample recovery system allows natural flow at ATM pressure to drain from the analyzer and the fast loop of the sample conditioning system outlets into the atmospheric recovery tank. The sample is returned to the process using a pump.
The Sample recovery system will be installed outside the shelter. It includes:
Skid mounting frame
Flame arrester, Protego 1"
500 Litre, stainless steel tank
Pump, 400 VAC, 50 Hz
Level transmitter (HH and LL alarms to ESD and on and off signal to DCS)
Flange, stainless steel (1.4571)
Check valve
Trace heated
Ball valves