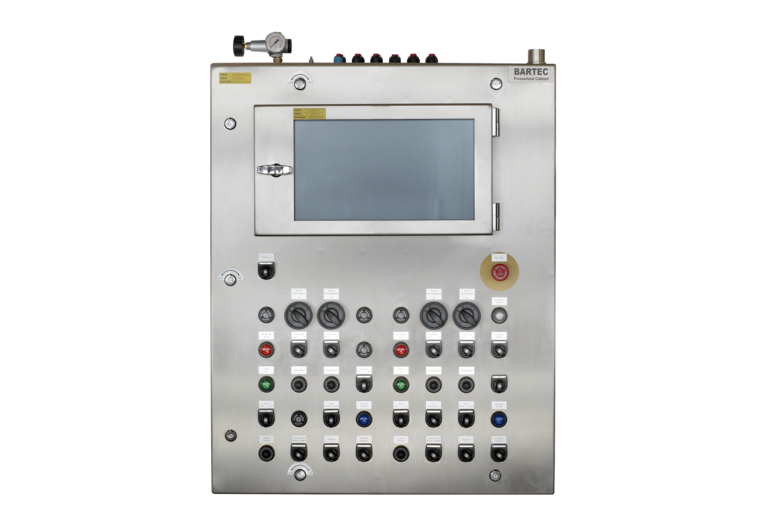 APEX (SILAS) Pressurized Cabinet
Ex p solution for Zone 1/21 or 2/22
.7-3704-…./….
Benefits
Customized Solutions
Cabinets in stainless steel or sheet steel coated
Ex p variants pxb, pyb and pzc
Protected volume up to 17 m³
Get a Quote
Marking
APC ATEX:
Ex II 2G Ex pxb/pyb * IIC T5 - T3 Gb
Ex II 2D Ex pxb/pyb * IIIC T95 °C - T130 °C Db

APC IECEx:
Ex pxb/pyb * IIC T5 - T3 Gb
Ex pxb/pyb * IIIC T95 °C - T130 °C Db

SPC ATEX:
Ex II 3G Ex pzc * IIC T5 - T3 Gc
Ex II 3D Ex pzc * IIIC T95 °C - T130 °C Dc

SPC IECEx:
Ex pzc * IIC T5 - T3 Gc
Ex pzc * IIIC T95 °C - T130 °C Dc
Ambient Temperature
Operating temperature
-55 °C to +70 °C @ T4
(-67 °F to 158 °F @ T4)
depends on application

Storage temperature
-20 °C to +60 °C
(-4 °F to 140 °F)
Description
The need for complex automation functions for processes in the chemical, pharmaceutical, oil and gas sectors is constantly increasing.
Flexible, reliable and low-maintenance solutions are required for measurement, control, regulation and visualisation, especially in potentially explosive atmospheres.
Complete control systems and switchgears, drives, pumps, large displays and industrial monitors, including keyboard and printer, must be prepared for use in Ex areas. The Ex p pressurised enclosure is one of the most flexible Ex solutions for many applications.
This type of ignition protection makes it possible to operate non-ex-capable devices in potentially explosive atmospheres in Zones 1/21, 2/22. The idea behind this is to prevent a potentially explosive atmosphere from entering a sealed protective housing by generating constant overpressure compared to the surrounding atmosphere.
BARTEC offers an Ex solution for controlling and automating devices, machines and systems in Zones 1/21, 2/22 in the form of the pressurised enclosure Ex p systems. Depending on the application, non-Ex-protected control units and switching devices, as well as complete automation systems, are installed in the housing. Modern, ready-for-operation Ex solutions – including the required ATEX or IECEx certification – are created on the basis of BARTEC's modular, ATEX-certified pressurised enclosure. The overpressure as a result of the purge gas is produced by compensating for the leakage losses. The pressurised enclosure solution is designed for a large range of ambient temperatures in temperature classes T3 to T5.

The main focus is on maintenance and availability of Ex devices and systems. The experts at BARTEC have many years of experience in explosion protection applications and in designing complete systematic solutions for automation. This expertise is the basis for developing reliable and efficient solutions, from engineering, manufacturing and procurement, through to commissioning and approval.
The Ex p solutions are designed from sheet steel or stainless steel, with air conditioning, with different coatings, seawater-resistant or drip-resistant, depending on the application.

Customized Solutions
BARTEC offers customized, pressurized solutions for:
Devices
Printers
Operator terminals
Control units
Frequency converters
Monitors

Air-conditioning
Optionally available from BARTEC various solutions to the climate of Ex-p systems:
Operating heating
Standstill heating
Air cooler
Air-conditionier
Water-air cooler