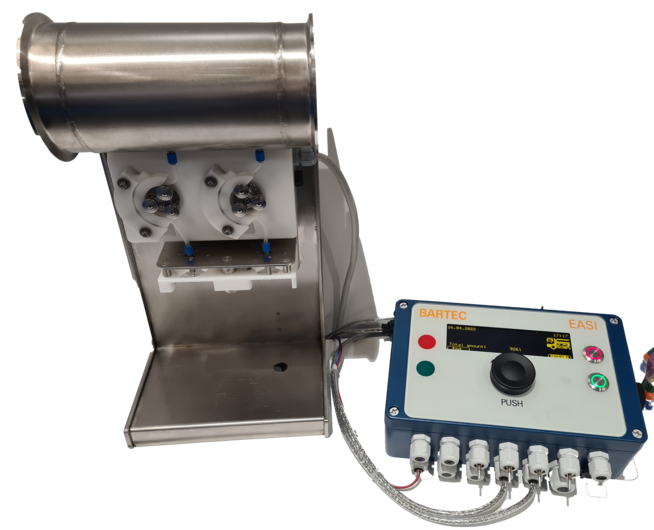 EASI
Electronic Autonomous Sampling Installation
6970-31
Benefits
EASY OPERATION, HANDLING AND RETROFIT
STANDALONE OR INTEGRATED
FULL UPGRADE POSSIBILITY TO BARTEC MAK PRODUCT PORTFOLIO
PREVENTION OF CROSSOVER (REFERRING TO DIN11868)
SMALLEST BYPASS VOLUME – BETTER REPRESENTATIVITY
NO TIME LOSS: SAMPLE IS FILLED DURING PUMP PROCESS
COMPACT DESIGN
Get a Quote
Marking
For more economy and objectivity.
A safe investment in the future!
Ambient Temperature
Operating temperature
Description
The new sampler controller EASI from BARTEC BENKE is designed to deliver reliable sampling wherever it is needed. The prevention of crossover in easiest compact form is one of the aspects that make the EASI unique in the world. The simple handling and the capability to integrate it in short time in nearly every intake situation make it so valuable. The EASI system is meant to be the first step on the road to sample perfection. That is why it is fully upgradable within the ULTRASAMPLER product family.