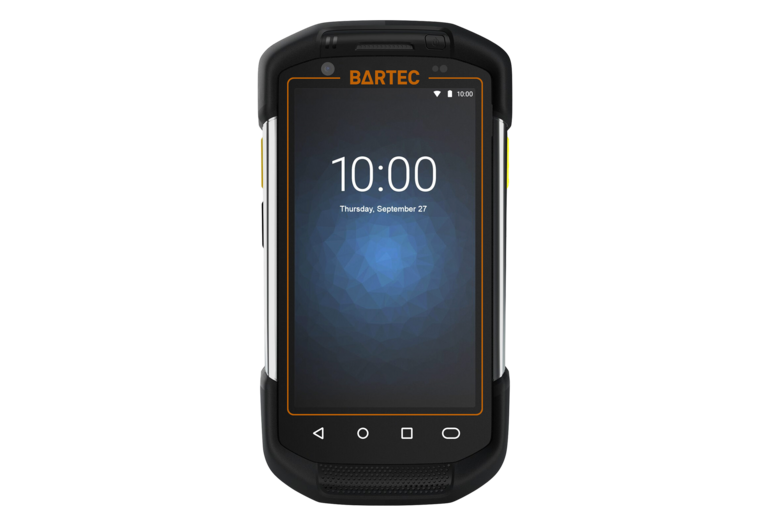 TC77ex-NI Touch Computer
for Zone 2/Div. 2
B7-A264-********
Benefits
Proven ultra-rugged design
Most battery power in it's class
Integrated scan functionality
High-quality integrated camera
Android 13
Get a Quote
Marking
ATEX:
Ex II 3G Ex ic op is IIC T5 Gc
Ex II 3D Ex ic op is IIIB T100 °C Dc IP 64

IECEx:
Ex ic op is IIC T5 Gc
Ex ic op is IIIB T100 °C Dc IP 64
UKEX:
Ex II 3G Ex ic op is IIC T5 Gc
Ex II 3D Ex ic op is IIIB T100 °C Dc IP 64

NEC 500:
Class I Div. 2 Groups A, B, C und D
Class II Div. 2 Groups F, G
Class III
Temperature class T4
Ambient Temperature
Operating Temperature
-20°C to +50°C (-4°F to 122°F)

Storage Temperature
-40°C to +70°C (-42°F to 158°F)
(without battery)
Description
Your workers in the field need a mobile computer to communicate with others and to access information. Only in this way can they work with maximum efficiency and improve service to customers. You would like to provide your staff with an enterprise-class hand-held device that has been designed for field use – your employees, however, expect a device that has the same level of development and which is as easy to use as their own smartphone. The touch computers in the TC77-NI series meet all of these requirements because they have been optimised for use in business. A tough design for reliable, everyday operation. Access to practically all information in your back-end systems wherever and whenever you need it. The ability to collect more types of data quicker than ever before. Immediate Push-to-Talk communication with field staff, line managers, despatch coordinators and colleagues in the office. 4G LTE support for robust, wireless connections in the fastest mobile phone networks in the world. And an extensive range of accessories which meets the unique demands of practically all mobile employees. The TC77-NI series – a simple way of equipping your field team with a true mobile office – now also in a potentially explosive atmosphere.
Android is a trademark of Google LLC.
Are you ready to talk to an expert?