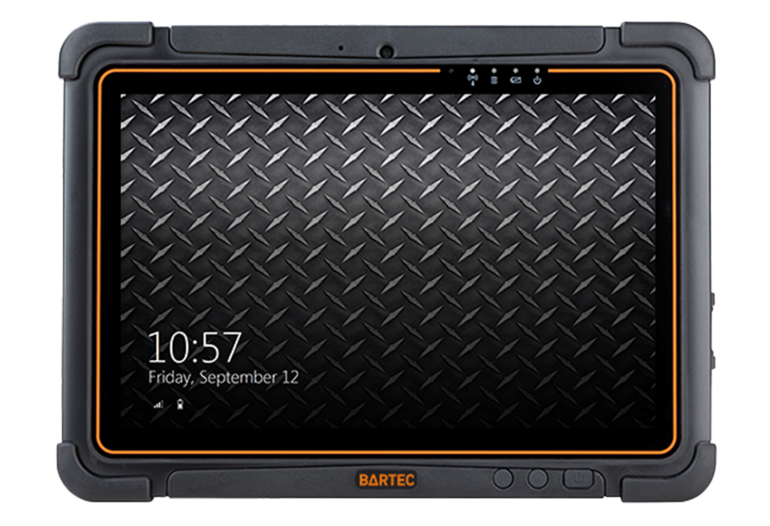 Tablet PC Agile S NI
for Zone 2/22 and Class I Div 2
B7-A2B4-10*112111100
Benefits
Rugged and highly flexible
Powerful processor for high working speed
Integrated Bluetooth, WLAN, and optional LTE modules
Data acquisition with barcode and NFC/RFID scanner
Get a Quote
Marking
ATEX:
Ex II 3G Ex ic IIC T4 Gc
Ex II 3D Ex ic IIIB T130 °C Dc IP 64

IECEx:
Ex ic IIC T4 Gc
Ex ic IIIB T130 °C Dc IP 64
UKEX:
Ex II 3G Ex ic IIC T4 Gc
Ex II 3D Ex ic IIIB T130 °C Dc IP 64

NEC:
Class I Div. 2 Groups A, B, C, D T4A
Ambient Temperature
Operating Temperature
ATEX/IECEx Zone 2/22:
-20 °C to +50 °C (-4 °F to 122 °F)
Class I Division 2:
-10 °C to +50 °C (14 °F to 122 °F)

Storage Temperature
-30 °C to +70 °C (-22 °F to 158 °F)
(without battery)
Description
The Agile S NI from BARTEC is a rugged and highly flexible industry tablet PC for rough environments.
The Agile S NI has a large number of international certifications and can be used throughout the world. It is certified for ATEX/IECEx/UKEX Zone 2/22 and NEC Class I Div. 2.
Thanks to its broad range of functions, the Agile S NI is the perfect assistant to service technicians, operating staff, engineers and project managers in the field and in the industry.