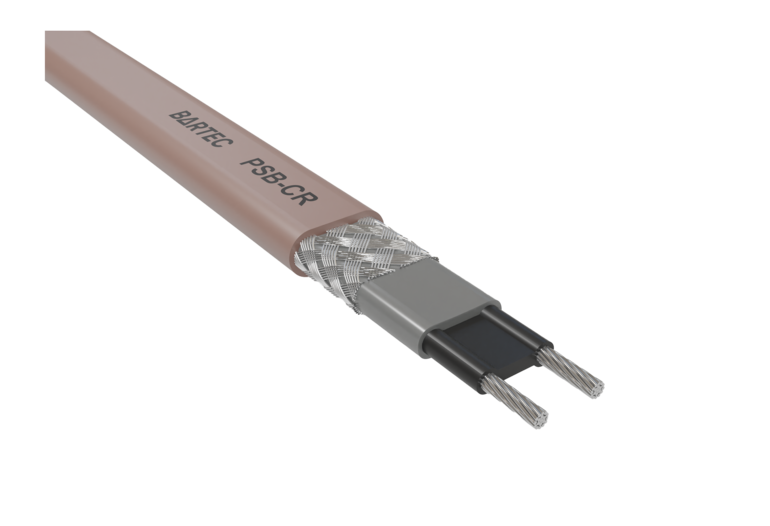 Self-regulating heating cable PSB
Low temperature, self-regulating parallel heating cable
07-5853-....
Benefits
Self-regulating
Can be cut at random length thanks to its parallel current supply
Corrosion-proof and resistant to effects of chemicals thanks to its protective jacket
Electrically and mechanically protected by a tinned copper braid
Simple installation thanks to its high flexibility and favourable dimension
Get a Quote
Marking
ATEX:
II 2G Ex 60079-30-1 IIC T6, T5 Gb
II 2D Ex 60079-30-1 IIIC T80 °C, T95 °C Db
IECEx:
Ex 60079-30-1 IIC T6, T5 Gb
Ex 60079-30-1 IIIC T80 °C, T95 °C Db
CSA:
Class I, Div. 2, Groups A, B, C, D
Class II, Div. 2, Groups E, F, G
Class III
Ambient Temperature
Max. continuous operating temperature, energized +65°C
Max. continuous exposure temperature, de-energized +85°C
Description
The self-regulating heating cable PSB is suitable for frost protection and temperature maintenance on pipes and vessels at low process temperatures in industry and hazardous areas.
The power output of the PSB varies depending on the ambient temperature. If the ambient temperature increases, the heating output will be reduced.
While the polyolefin protective jacket is for aqueous, inorganic chemicals, the fluoropolymer protective jacket is suitable for organic chemicals.
Technical Data
Nominal voltage
AC 208 V to 277 V
AC 110 to 120 V
Max. continuous operating temperature, energized
+65 °C
+150°F
Max. continuous exposure temperature, de-energized
+85 °C
+185°F
Min. installation temperature
-55 °C
-67°F
Min. start-up temperature
-55 °C
-67°F
Temperature class
T6: 3PSB2, 5PSB2
T5: 8PSB2, 10PSB2
Max. braid resistance
18,2 Ω/km
Dimensions with braiding and jacket
11.8 x 5.8 mm with polyolefin protective jacket
11.6 x 5.6 mm with fluoropolymer protective jacket
0.46 in x 0.22 in with polyolefin protective jacket
0.46 in x 0.23 in with fluoropolymer protective jacket
Min. bending radius
25 mm
0.98 in
Manuals/Operating Instructions/Guides