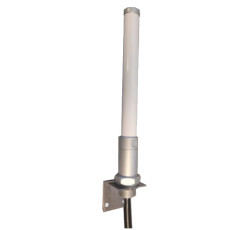 Xbeam™ XL EX 2 - 6 GHz
Antenna for 2-6GHz wireless networks in Zone 1 / Class 1 Div 2
ANTXL**
Benefits
The antenna can be utilized in:
Wi-Fi
WLAN
ZIGBEE
WirelessHART
ISA100
Other 2 - 6 GHz applications
Get a Quote
Marking
ATEX:
Ex II 2 G Ex eb mb IIC T6 Gb
Ex II 2 D Ex tb IIIC T85 °C Db

IECEx:
Ex eb mb IIC T6 Gb
Ex tb IIIC T85 °C Db

NRTL:
Class I Zone 1, AEx eb mb IIC T6 Gb
Class II Zone 21, AEx tb IIIC T85°C Db
Class I, Division 2, Grps A, B, C, D, T6
Class II, Division 2, Grps F, G, T85°C
Ambient Temperature
-40°C ≤ Ta ≤ +60°C
Description
The Xbeam™ XL EX is an ATEX ,IECEx and NRTL/MET approved RF antenna for creating wireless networks (typically Wi-Fi, ZigBee, Wireless HART and ISA100) and wireless telemetry systems in hazardous area. The antenna is not limited to a specific network protocol and can be used for any 2 - 6 GHz application. The antenna is optimized for use in steel and concrete structure environments where multipath effects and reflections are present.
The Xbeam XL EX is a preferred solution where the access point/radio can be placed in safe zone or safe area and where cable length does not exceed 30 meters. The antenna can also be used with Ex e, Ex d or Ex p solutions.