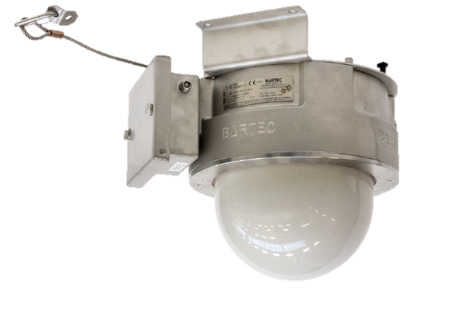 EXgate®215
Gateway/node and repeater enclosure for Zone 1
443568
Benefits
Small SS316L enclosure with low weight certified for use in hazardous areas.
Radio frequency transparent dome or glass.
Easy ceiling or wall mounting with the included quick fix bracket.
Offered in different sizes for fitment of wide range of electrical equipment.
Three M25 entries provides a flexible wiring or connectorized interface
Build on field proven experience from the TNXCD product.
Get a Quote
Description
EXgate® Communication enclosure makes it easy to deploy IIoT in hazardous areas, zone 1 and zone 2. This enclosure can beused for all types of WiFi, Bluetooth®, 4G/5G/signal repeaters and gateways with internal or external antennas that fit in the available sizing options.

The design of EXgate® makes the uniteasy to install and use and allows for simple solutions within numerous different applications.
The enclosures are fully assembled according to clients demands.

The EXgate® are designed to meet the harsh environments of the North Sea, and are ideal for Petrochemical and Marine applications aswell as for all kind of industry where an explosive atmosphere may be present.

EXgate® Ex d enclosures allow for utilization of standard electrical components. Subsequent replacement and maintenance of installed components is thus easy.

The EXgate® enclosure is designed, built and delivered in full compliance with current specific regulations and standards.

The client receives a complete system including user manual, part list,wiring diagram and an EU-Declaration of Conformity for ATEX certified solutions.

You can find more detailed information in the documentation.
Technical Data
Material
Stainless steel 316L / CF3M / Polycarbonate
IP Rating
IP66
(IP67 and IP68 upon request)
Dimensions
Available in diameter 155mm,195mm and 215mm
Height: 160mm for enclosure size 195mm
Weight
Approx. 8.0kg for size 195mm
(including mounting bracket, excluding electrical device)