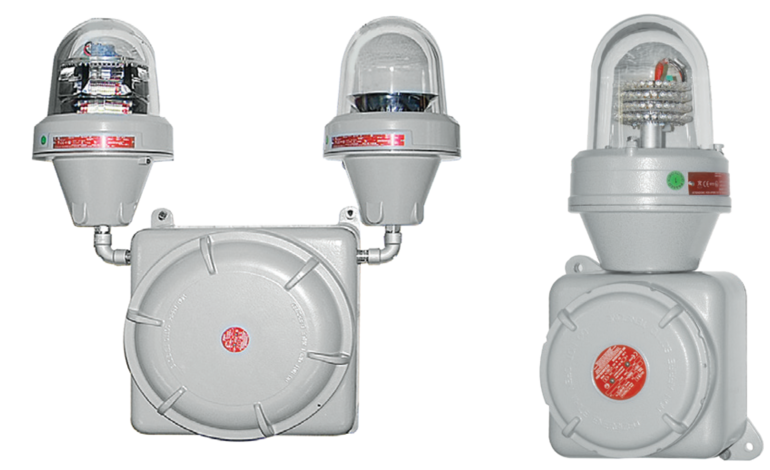 LED Signal and obstruction light with MIOL-LIOL
Medium intensity and low intensity multI-LED system aircraft warning lights
MIOL-LIOL....
Benefits
High efficient COB LUMILEDS
Long lifetime
Zone 1, 2, 21, 22
Horizontal beam 360° (MIOL / LIOL)
Get a Quote
Description
The Type MIOL-LIOL light series has been designed for potentially explosive atmospheres in Zones 1, and 2 as well as 21 and 22, MIOL-LIOL light is characterized by its robust design, a high IP protection type, and a large ambient temperature range. It is used for all types of obstruction lights, such as those on large buildings, masts, cranes, wind turbines, towers, chimneys, or front position/aviation obstruction lamps for targeting traffic management in the area of airports. Identifying very high buildings, telecommunication towers, factory chimneys, masts, etc. is essential in and around airports and as from a stipulated height. Especially at night, dusk, and when there is poor visibility, they help the pilot by clearly and unmistakably highlighting obstacles and therefore aid air-traffic control. Also in the offshore area, as signal and orientation lighting of obstacles such as platforms, buoys, bridges, etc., they offer ideal solutions for safe shipping navigation.

The light is designed with a type of protection "Ex d" and may be used with incandescent light bulbs, xenon lamps, or high-performance LED modules. A large number of obstruction light solutions are offered as "Low-Intensity Obstruction Lights" or "Medium Intensity Obstruction Lights". According to requirements, the lights are available with steady burning or with a horizontal or vertical flashing light beam. The portfolio is rounded off by complex systems, including their control and monitoring, for the potentially explosive atmosphere and the onshore and offshore areas.