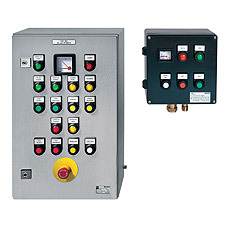 Local control stations
for Zone 1/21
07-3...-…./….
Benefits
The right size/ material enclosure
Optimum functionality thanks to the great variety of components
Customised planning and implementation
Certified to many standards
Get a Quote
Marking
Zone 1:
Ex II 2 G Ex db eb ma/mb op is q ia/ib [ib]
IIA, IIB, IIC, T6, T5, T4, T3 Gb
Ex II 2(1) G Ex db eb ma/mb op is q ia/ib [ia Ga]
IIA, IIB, IIC, T6, T5, T4, T3 Gb
Zone 21:
Ex II 2D Ex tb [ib] IIIA, IIIB, IIIC
T80 °C, T100 °C, T130 °C Db
Ex II 2(1) D Ex tb [ia Da] IIIA, IIIB, IIIC
T80 °C, T100 °C, T130 °C Db
Ambient Temperature
(special design on request)
-20 °C ≤ Ta ≤ +40 °C
(-4 °F ≤ Ta ≤ +104 °F)

-55 °C ≤ Ta ≤ +80 °C
(-67 °F ≤ Ta ≤ +176 °F)
(depending on fixtures)
Description
BARTEC produces local control stations for use in areas with flammable gases and dusts. Depending on the application area, the control stations are designed
with the type of protection "Increased safety" or "Protection by enclosure".

The are available in aluminium, polyester or stainless steel. When selecting the version, you can choose between a cabinet with door and an enclosure with screw cover. Control, signalling and display devices and remote I/O systems are installed according to customer specifications. The installation of industrial standard equipment in controls for Zone 21, type of protection tb "Protection by enclosure" is possible.

The control elements can also be mounted on a mounting rail or in the front wall. Free installationa reas can be designated for the subsequent installation of BARTEC control and signalling devices, which are then sealed using blanking plugs. All explosion-protected local control stations are supplied prewired on terminals.

Fields of application
Chemical and petrochemical industry, process and plant engineering, pharmaceutical and food industry, OFF SHORE areas.