Success Story
Visualizing Systems Safely
Boehringer Ingelheim and BARTEC design zero-client solution for process control system in pharmaceutical production
For its technology center in southern Germany, Boehringer Ingelheim worked with BARTEC to develop a safe, cost-effective visualization solution that sets new benchmarks in hazardous areas.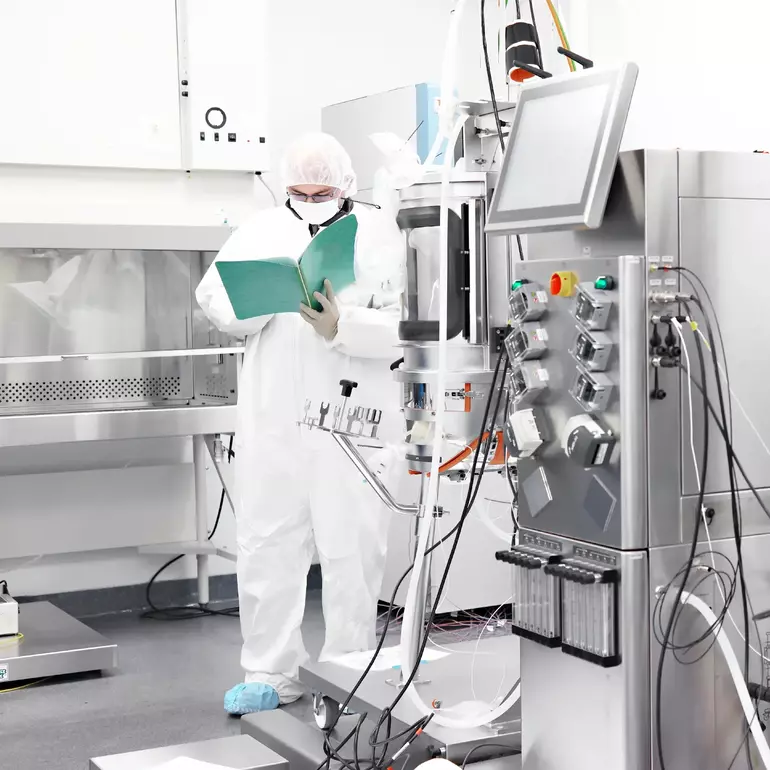 As 2014 drew to a close, Boehringer Ingelheim's technology center for chemical development opened its doors, becoming the global pharmaceutical company's largest research and development facility. Playing their part were BARTEC's new, highly secure Zero Clients.
Faster time to market
Thanks to its wide range of device technology, the highly flexible technology center can perform a variety of chemical processes. Its focus, however, is on newly developed pharmaceutical substances. In order to bring these new chemical entities (NCEs) to market as quickly as possible, the 29,000 sq ft (2,700 m2) technology center houses a number of synthesis laboratories that manage the translation of processes from the laboratory to mass production. In the sophisticated pilot facilities, NCEs are produced in batches of 22 to 220 lbs (10 to 100 kilograms) for clinical trials.
Safe process visualization
If the technology center's basic automation was largely comparable with real-world production, the automation of the pilot facility required a greater level of engineering to take into account the higher degree of freedom and flexibility. This was one of the reasons for the project team's particular focus on cost-effectiveness during the implementation. Cost savings were achieved using a range of perfectly dovetailing innovations. One of these was the "virtualization of visualization", a forward-thinking concept that offers advantages in flexibility, cost, and space savings.
BARTEC's Zero Client solution
Instead of a classic KVM (Kernel-based Virtual Machine) system, the project team decided on a much more modern, but no less safe, HDMI solution – BARTEC's POLARIS REMOTE Zero Client. All the streamlined end devices have to do is display the virtualized process control system running centrally in the server room and facilitate operations. Only the remote desktop protocol Microsoft RDP, the industry standard for remote access to Windows systems, is permitted for entering the screen, mouse, and keyboard codes required.
Safety first
As the Zero Clients in the Ex areas have no data interface, employees can use the visualization solution only to perform specific designated tasks. This form of enforced data protection is further reinforced by the Windows Embedded operating system's Enhanced Write Filter (EWF), which is activated as standard. It prevents any kind of physical write access to the system partition of the data medium, thus eliminating typical security risks such as abuse or virus infections.
Benefits in operations
The design, which was developed jointly by Boehringer Ingelheim and BARTEC, locks down the process control system in accordance with the very latest IT security rules without tying up internal resources unnecessarily. The sophisticated system and client architecture eliminates the need for regular patching, reducing the total cost of ownership. As the actual intelligence behind the Zero Client solution, i.e. the application, is outside the Ex area, the costs and effort involved in installation are also reduced. Any maintenance required can mostly be conducted outside hazardous areas. The devices themselves require virtually no configuration, and they can be relocated quickly if necessary.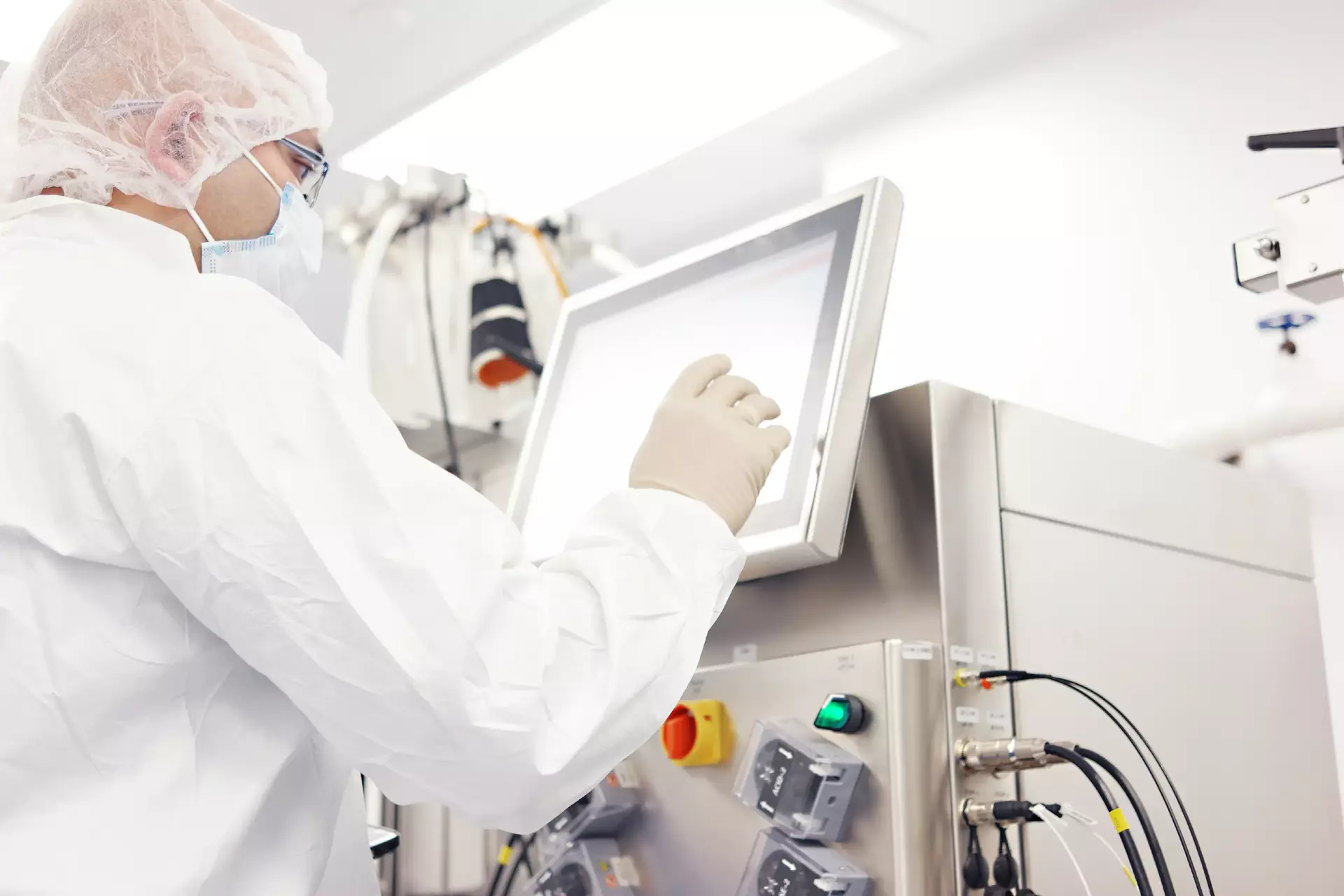 A successful complete package
The real coup that BARTEC has achieved with its POLARIS REMOTE Zero Clients, however, is in its innovative bundling of otherwise relatively standard individual components. The hardware, which is certified for Ex zones 1 and 2, the RDP access protocol, and the state-of-the-art HD touch screen in a range of formats combine to form a unique visualization solution. For users in the technology center, this creates a consistent look and feel for all the devices they work on, from the synthesis reactor and drying chamber to the hydrator or centrifuge.
Flexible installation
Boehringer Ingelheim operates 17 Zero Clients, several of which are integrated into the facility's walls. Most of them, however, form part of a mobile workstation setup based on an ergonomically designed stainless steel cart. With the specification calling for a maximum outer dimension of just over 27 inches (70 cm), the project team decided on a compact design with a 17.3-inch display. Reliable touch operations are ensured by a zoom function integrated into the visualization.
Innovative and extremely efficient
The virtualization of process control systems is becoming an increasingly important element of factory construction and renovation. This, however, also increases the complexity of operational requirements. Boehringer Ingelheim has been working with BARTEC since process visualization in hazardous areas was in its infancy, and when the company was seeking a future-proof design for its new technology center, BARTEC once again proved its value as a solutions partner. The intensive cooperation between the two companies resulted in a Zero Client solution tailored precisely to every requirement. Their low investment costs, high availability and flexibility make BARTEC's Zero Client solutions the stuff of which industry standards are made.
About Boehringer Ingelheim
Boehringer Ingelheim is working on breakthrough therapies that transform lives, today and for generations to come. As a leading research-driven biopharmaceutical company, the company creates value through innovation in areas of high unmet medical need. Founded in 1885 and family-owned ever since, Boehringer Ingelheim takes a long-term perspective. More than 52,000 employees serve over 130 markets in the three business areas, Human Pharma, Animal Health, and Biopharmaceutical Contract Manufacturing.
- Opening of a technical center with laboratories for transferring processes from laboratory to large-scale production, as well as complex pilot facilities for the production of newly developed pharmaceutical ingredients
- Engineering effort for automation
- Creation of an IT security concept with precise ideas of layout and architecture, for use in hazardous areas
- Need for particularly cost-efficient implementation
- Identical panel PCs for all employees throughout the technical center, regardless of application area, for a consistent look and feel
- Limited on-site space
- Development of a virtualization solution for the central process control system using Zero Clients and the RDP protocol
- Installation of a total of 17 BARTEC POLARIS Zero Clients with touch screens in Zone 1 and Zone 2. Zero Clients were installed on twelve synthesis reactors and four centrifuges and drying ovens, as well as on three hydrogenation machines—partly as wall installation solutions, but primarily as mobile solutions
- Additional security provided by Enhanced Write Filter
- Modern, remote PC solution suitable for all safety and spatial requirements
- Consistent overall security concept, almost complete exclusion of misuse or virus risk
- Savings on investment costs and reduction of total cost of ownership (TCO) through less cyclical manual intervention
- Central application means easier maintenance, great flexibility, and high availability