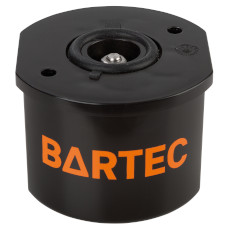 EXaminer® CUI
Corrosion under insulation (CUI) sensor for pipelines, Zone 1
17-2131-1220/0000
Benefits
Low Power device based multi-protocol SoC
Communication Narrow Band IoT, LTE-M
Relative humidity range 0 – 100 %RH
Temperature range -40 to + 80 °C
Direct water presence detection, capacitive sensor
Housing in UV stabilized POM
IP67 according to IEC 60529
Developed for robotized installation
Disposable cutting tool for stainless steel integrated in the sensor
Sensor design combining cutting/drilling and fixation in one operation, prepared for robotized installation
The sensor is powered from two 3V Lithium Manganese Dioxide batteries in series.
– Expected battery life: 9-11 years (0 - 40 °C, hourly measurements, daily transmissions). Lifetime is influenced positive and negative depending on environmental conditions as well as measurement and transmission intervals.
Get a Quote
Description
Corrosion under insulation (CUI) is one of the costliest and unavoidable problems facing the hydrocarbon processing industry today. CUI affects the steel piping, storage tanks, container vessels and other process equipment within the plants that are subject to extreme temperature fluctuations.

Insulation applied to the pipe can mitigate the thermal cycling effects. But the presence of seams, gaps or other discontinuities in the protective cladding or in the insulation layer makes them susceptible to infiltration by outside humidity or from the process environment itself.

The Wireless CUI sensor will report actual temperature, relative humidity and direct water presence from the section of the process pipe. These data can then be stored and analyzed in a IoT dashboard, to monitor status, show trends and adjust the nessesary service/maintanance intervals. With use of the CUI sensor you can pay attention to most critial parts of the pipeline, as well as reduce HSE risk for the physical worker in the hazardous area. Inspection in dry areas can be avoided or postponed. This will give you the oppurtunity to go from a reactive maintainance plan to a preventive and predictive method, which will also be cost saving over time.

Refer to the documentation for more detailed information