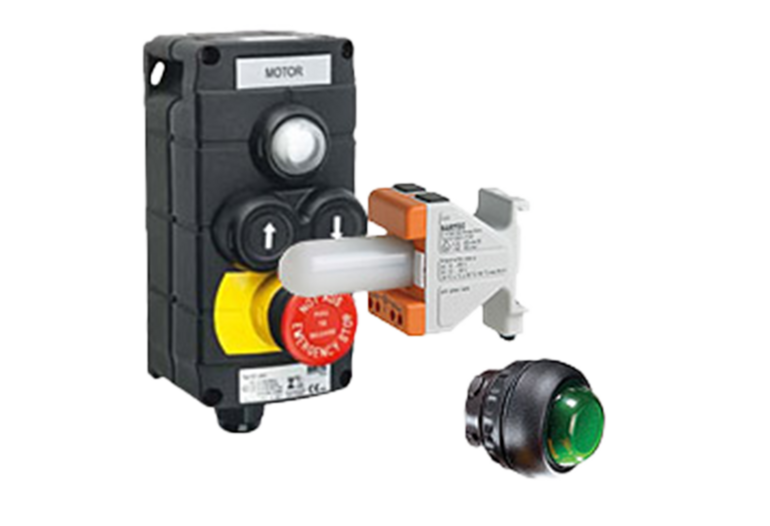 ComEx Control Stations
for Zone 1/21
07-351.-10...
Benefits
3 standard enclosures
Easy to install
Extremely flexible
Customer-tailored solutions
Get a Quote
Marking
ATEX:
Ex II 2G Ex db eb IIC T6 Gb
Ex II 2G Ex db eb ia IIC T6 Gb
Ex II 2D Ex tb IIIC T80°C Db

IECEx:
Ex db eb IIC T6 Gb
Ex db eb ia IIC T6 Gb
Ex tb IIIC T80°C Db
Ambient Temperature
-55 °C ≤ Ta ≤ +60 °C
(-67 °F ≤ Ta ≤ +140 °F)
Description
ComEx is a flexible system offering standard as well as customer-specific local control and indicating units. You have the choice between three standard enclosures which can accomodate up to three different control and indicating devices. Combinations of up to three ComEx enclosures are possible.

Either stuffing box glands in M20 x 1.5 and M25 x 1.5 made of plastic or cable glands made of metal are available for the electrical connection. The plastic glands require no lock nuts. Metal glands are screwed into a metal earth plate sheet inside of the enclosure. Maximum amount of cable clands: two off M20.

To ensure easier operation on site, each enclosure can be equipped with an individual info-label. For offshore applications special oil-resistant attachments are available.