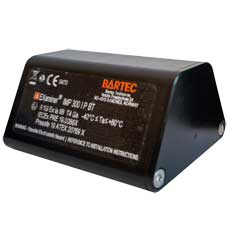 EXaminer® Impact
Wireless impact and rotation sensor for Zone 0/1
441583
Benefits
Stand-Alone Impact sensor.
Up to 8 year battery life depending on configuration.
Configurable reporting for event and/or cycle.
Addressable with MAC address and resource tag number.
An impact event is recorded when the sensor is exposed to a net acceleration over a certain limit.
A rotation event is recorded when the orientation of the sensor changes between any of its six possible orientations.
Nominal LoS range: 300m.
Get a Quote
Description
IoT deployment in potentially hazardous areas. The BARTECsmart-sensor measures impact and rotational events. The Examiner® Impact IIoT sensor is an advanced sensor activated when an impact or rotation level exceeds a predetermined level defined by the customer. The data is retrieved via connection to a cloud solution, distributed control system (DCS) or local smart phone/ tablet.The innovation will allow registration or instant messaging of an impact event. By registering and transmitting impact events the resource becomes independant requiring attention based on condition.

You can find more detailed information in the documentation.