Success Story
In and Out in No Time
BARTEC's TIGER measuring system optimizes logistics processes in the milk industry
Time is money. This logistics maxim goes double – or even treble – for drivers in the dairy industry. The faster they can transport milk from milk producers to dairies, the more lucrative their daily routes will be. This is where the TIGER measuring system comes in – and remains for the long haul. It is MID certified and operates faster and with greater precision than comparable systems on the market.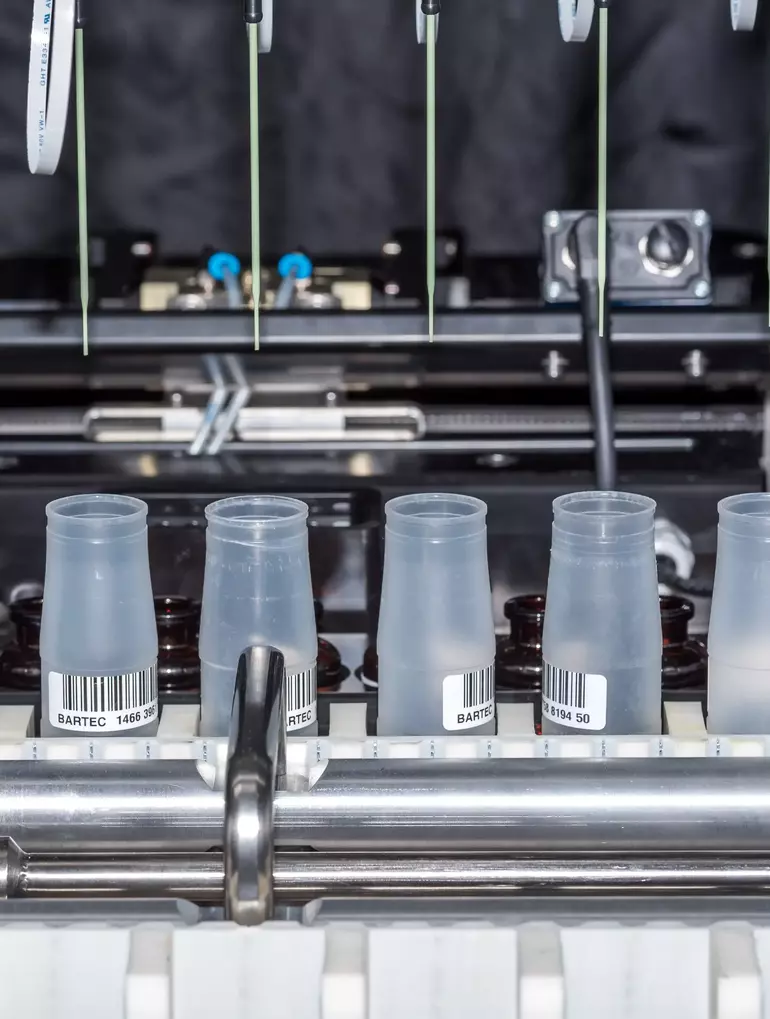 Raw milk is one of the most sensitive products in the food industry and surely one of the most stringently tested foods in Germany. At every stage in the process from milking machine to consumption, its quality must be assured in a verifiable, traceable manner. Every single step on its way from production to the final product is carefully controlled, analyzed, and logged. At the same time, however, the earning potential in processing this staple is limited by a particularly rigid pricing structure. Transport companies collecting milk from the farms on behalf of dairies are thus confronted with much higher logistical challenges than their colleagues transporting less perishable merchandise.
Electronic milk measuring equipment to ensure error-free invoicing and systems for safe sampling are, therefore, standard equipment for any milk tanker. MID-approved systems assure milk producers, haulage companies, and dairies that goods are properly handled, from the initial production location right through to the end product. These are mandatory requirements. The measuring process becomes enjoyable, however, when, like BARTEC's TIGER milk measuring and analyzing system, it saves time, thereby increasing the profitability of any route. "Using the TIGER system shortens my daily route by an hour," reports hauler Jürgen Krieg. "My average daily route is 330 kilometers (205 miles), with stops at approximately 50 dairy farms. This now takes me a mere nine-and-a-half hours to complete – including mandatory rest periods—instead of the more than ten hours it used to."
Higher payload of milk possible
The hauler from Hünfeld in Hesse, Germany, works for the local Hochwald dairy. The areas he covers – around Hünfeld and in the Waldecker Land area in northwestern Hesse – include approximately a hundred farms, which he visits within two days. "Eighty of these farms supply an average of approximately 1,300 liters (343 US gallons) of milk each every other day; for the other twenty, the average is 3,000 liters (793 US gallons) each," he says. Every year, he collects 23 million kilograms (50 million pounds) of milk. For him, therefore, time really is of the essence. Two years ago, he learned about the TIGER system from a colleague, and his first test run won him over. He purchased the system immediately.
The benefits of using the TIGER technology are the result of a carefully considered development process. Manufacturer BARTEC wanted to offer its customers a stable solution that would meet the expectations of all parties involved in daily on-site measuring and sampling. With this aim in mind, therefore, BARTEC's engineering experts sat down with prospective users and asked transport companies, milk haulers, farmers, and dairy specialists both before and during the development of the solution about the desirable capabilities of the perfect measuring system. This enabled the customer specifications for the system to be formulated quickly and precisely at the beginning of the development phase. Consistent density and volume measurements were of course, the main requirement. The system also needed to be fast, precise, and lightweight. For BARTEC, this collaborative project was a very positive experience. The company possesses comprehensive expertise in analytical devices and systems, as well as in engineering, designing, and servicing monitoring and optimization concepts for production processes. The practical issues communicated by prospective customers, however, served as a constant benchmark in creating an eminently practical system for everyday use.
The result is a system which operates faster and with greater precision than comparable systems on the market. "The TIGER system is capable of suctioning and pumping more than twice the capacity of the system I was previously using! Instead of pumping 700 liters (185 US gallons) per minute, I can now pump 1,600 liters (423 US gallons) per minute," Krieg notes. "This means that the retention time of every pumping event is shortened tremendously. In suction mode, the TIGER achieves a flow velocity of more than 1,200 liters (317 US gallons) per minute, with some variation according to the farm tanks' outlet diameters. I feel as though I've only just arrived at each farm when I'm ready to set out again for the next one."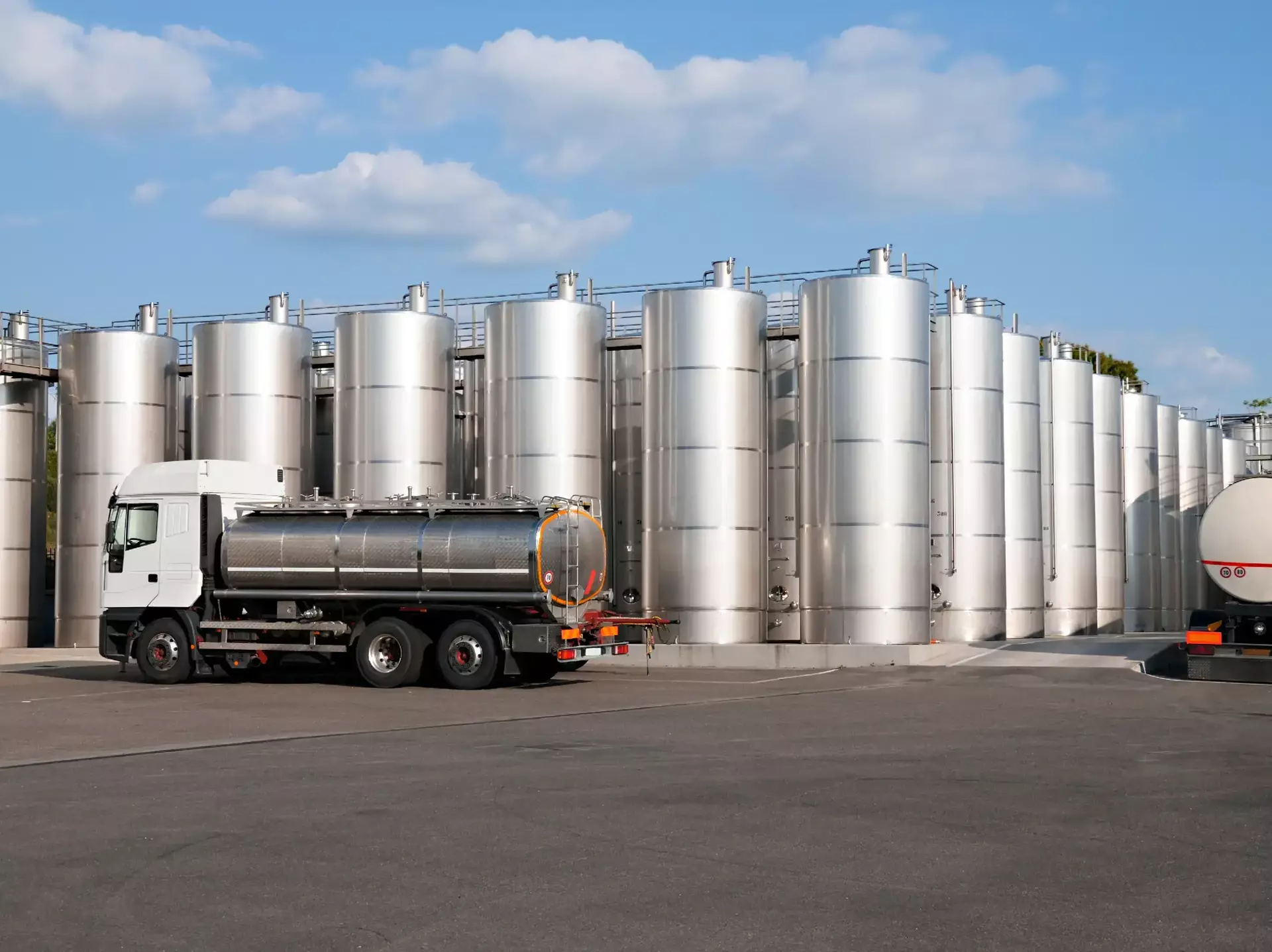 Low weight, high performance
The TIGER measuring and sampling system represents the latest generation of onboard measuring technology for milk tankers. It has extremely precise measuring capabilities and a suction range of up to 1,600 liters (423 US gallons) per minute. The specially designed air bubble detection sensor operates without air elimination technology and ensures metrologically precise online detection of undissolved air content during milk reception. The air bubble detection response time is measured in milliseconds. Due to its high resolution and stringent measuring capabilities, the sensor can be used to directly control the intake pump. Weighing less than 200 kilograms (440 pounds), it is one of the lightest systems of its kind on the market. The system complies with all legal requirements and food industry directives for measuring and handling foodstuffs. It is MID certified and comprises 3-inch stainless steel throughout.
Lower fuel consumption
TIGER is compact, and no air eliminator is required. This means savings on fuel consumption and additional potential increases in milk payloads. The self-adjusting TIGER system automatically adapts to the tanks and hoses used on production farms, allowing milk to be collected and delivered efficiently and with care. Samples are drawn as the milk is suctioned, and there are no inhibiting elements on the suction side. GPRS, remote diagnosis, and remote system updates are, naturally, included. In order to comply with the axle spacing prescribed by the Euro 6 standard, the current minimum width of the TIGER system including the sampling unit is 175 centimeters (69 inches).
In measuring milk volume, the common denominator in milk reception logistics, the TIGER system consistently takes the next step. Dispensing with an air elimination system not only results in a drastic weight reduction, it also yields excellent measuring results by measuring the volume of the underlying air content. The BARTEC TIGER system subtracts these values from the total, resulting in a quantity measurement that is based on milk volume rather than on air.
For the engineers at BARTEC, however, customer proximity does not end with launching a system on the market. Instead, the company's experts support haulers in implementing the measuring and sampling system, from the initial connection and functional testing processes through to the final documentation. Once initial customer training is completed, BARTEC continues to offer comprehensive after-sales service.
Customer groups: Haulage companies, dairies
About Krieg Transporte
Milchtransporte Krieg transports milk and other liquids from the heart of Europe. The company operates 365 days a year, and its own scheduling department ensures optimized, flexible order processing. The company is based in Hünfeld, in Germany's Hesse region.
System benefits at a glance:
Consistently stable density and quantity measurements in day-to-day business
Compact, lightweight (200 kg / 440 lb) design (No air eliminator means savings in weight and higher milk payloads)
Minimum 100-liter (26.4-US gallon) intake quantity
Optimized suction capability across the entire suction range
Simultaneous sampling
Careful handling of milk
Fully electronic
No inhibiting element on the suction side
Remote diagnosis and updates
Easy operation combined with highest performance
- Dairy haulers face considerable time pressure and a fixed pricing structure
- High number of milk production facilities to be visited per day and vehicle
- Develop a fast, accurate, and easy measuring and sampling system for onboard density and quantity recording in milk tankers
- Take into account a particularly sensitive payload with strict legal regulations
- Ensure customer-centric development based on user surveys
- BARTEC TIGER system
- High suction and pumping capacity with suction spectrum of up to 1,600 liters per minute
- Accurate air bubble detection without air elimination
- MID certified, GPRS, remote diagnostics, remote updates
- Increased profitability of individual tanker routes
- Valuable time savings (e.g. one hour per day and vehicle)
- High service quality, including commissioning of the measuring and sampling system from connection to functional testing to final documentation and initial instruction; comprehensive after-sales service